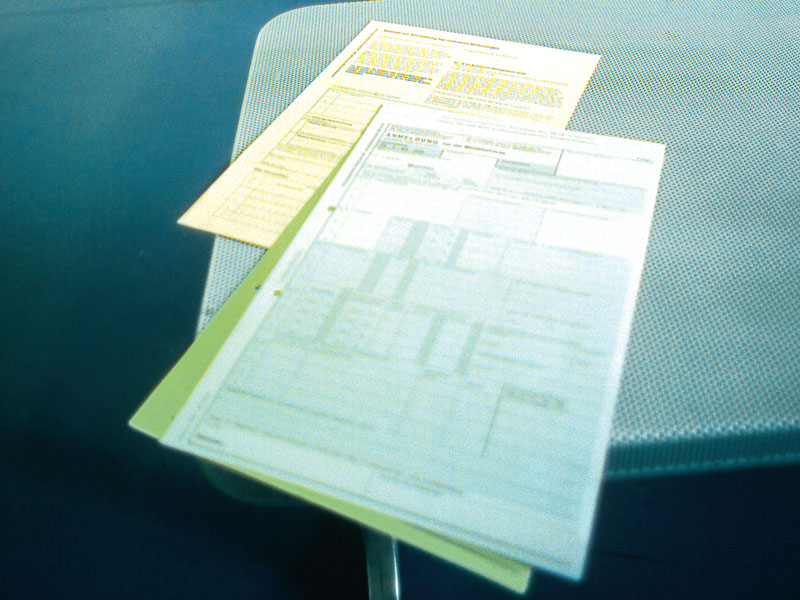 © NEW IN THE CITY
Put your name here, your address there, then sign on the dotted line... If you want to be able to watch TV in your new home, make a phone call, turn on the heating or the lights, you have to fill in lots of forms. The trip to the Einwohnermeldeamt – Residents Registration Office – should be one of the first things you do.
Bavarian law says you must notify the authorities within a week of moving to a new district. Anyone who wants to keep their old apartment in a different city should register Munich as their main place of residence since a tax has been levied on second homes since 2006. Anyway you won't feel like a real Munich citizen until it says so in your resident's permit, will you?
You can register in the Bürgerbüro (citizens office) in the Kreis­verwaltungsreferat (local government office) at 19 Ruppertstraße or in one of the five local offices around the city. You'll find the registration forms there, but you can also download them from the Internet at www.muenchen.de. You can send your completed and signed registration form by post but if you choose this option you must send it to the Bürgerbüro in Ruppertstraße.
All other offices only accept personal applications. A German national who needs his or her address changing on a Personalausweis (ID card), has to go in person. All these services are free to EU nationals. If you want the address changed on your driving licence, you have to pay a fee of € 11.
Foreign residents (except EU or European Economic Area citizens) should go the Ausländerbehörde (foreign nationals office) in the Bürgerbüro to apply for their residents permit.
Munich info
---
Stadtinformation
Information about responsibilities in the municipal administration, addresses and opening times.
›› Altstadt, Rathaus, Marienplatz 8, Tel. 22 23 24 oder 233-00, www.muenchen.de

Tourist-Information
Hotel reservations, information and lots more.
›› Altstadt, Neues Rathaus, Marienplatz
›› Ludwigsvorstadt, Hauptbahnhof, Bahnhofplatz 2
›› Tel. 233-96 500, www.muenchen-tourist.de
Important authorities
---
District administration office
Registration office
›› Ludwigsvorstadt, Ruppertstr. 19, Erdgeschoss
›› Postadresse: Landeshauptstadt München, Kreisverwaltungsreferat, Hauptabteilung II, Einwohnerwesen, Bürgerbüro, 80466 München,
Tel. 2 33-9 60 00

Service telephone registration office
Tel. 233/96 000

Opening hours: Mo, Mi, Fr. 7.30-12.00, Di 10.00-18.30, Do 10.00-16.00
Registration office branches
Haidhausen
Orleansstr. 50, Tel. 2 33-4 94 26


Neuhausen
Leonrodstr. 21, Tel. 1 30 14 18 -0


Milbertshofen/Hart
Riesenfeldstr. 75, Tel. 35 70 59-17, -21, -26


Forstenried
Forstenrieder Allee 61a, Tel. 7 90 78 66-0


Pasing (im Bürgerzentrum)
Landsberger Str. 486, Tel. 233-96 000


Standesamt
›› Isarvorstadt, Ruppertstr. 11, Tel. 233-9 60 60
›› Pasing, Landsberger Str. 486, Tel. 233-3 72 52
Vehicle registration
---
Sein Fahrzeug kann man nicht nur in der Kfz- und Führerscheinstelle, sondern auch im Bürgerbüro in der Ruppertstraße oder in den Außenstellen an- oder ummelden.


Kraftfahrzeugzulassung und Fahrerlaubnisbehörde
Westend, Eichstätter Str. 2, Tel. 233-9 60 90, Öffnungszeiten: Mo, Mi, Fr 7.30-12.00, Di 10.00-18.30, Do 10.00-16.00
Taxes
---
Tax office
Munich Revenue Office service center
Maxvorstadt, Deroystr. 6, Tel. 12 52-0, geöffnet: Mo-Mi 7.30-16.00, Do 7.30-18.00, Fr 7.30-12.30, www.finanzamt.­bayern.de/muenchen
Tax adivsors
Martina Konle Steuerberatung 

Maxvorstadt, Sophienstr. 2, Tel. 51 26 36 60, www.taxation-konle.de


Mader & Stadler 

Sendling, Konrad-Celtis-Str. 83, Tel. 7 41 27 70, www.mader-stadler.de

Monika Weichenrieder 
Lehel, Thomas-Wimmer-Ring 12, Tel. 2 12 39 10, www.steuerkanzlei-am-isartor.de